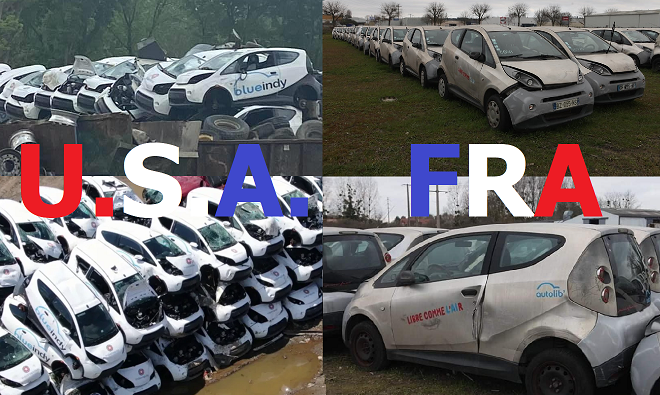 Kilkukrotnie już pisaliśmy o największym jak dotychczas carsharingu elektrycznym w Europie – usłudze AutoLib, której zamknięcie w Paryżu (największej lokalizacji) było jedną z najgorętszych wiadomości, nie tylko w temacie carsharingu, ale też całej elektromobilności i motoryzacji jako takiej. Nie będziemy dzisiaj po raz kolejny opisywać, dlaczego usługa złożona aż z 4 000 samochodów w samym Paryżu ostatecznie upadła. Najważniejsze informacje na jej temat znajdziecie w naszych wcześniejszych artykułach tutaj oraz tutaj. Dzisiaj przybliżymy natomiast los, jaki spotkał samochody usługi, które jako elektryczne, co do zasady powinny być ekologiczne, natomiast ich obecny ale też i docelowy status jest dla "ekologiczności" elektromobilności kiepskim świadectwem.
Nasz dzisiejszy materiał został zainspirowany doniesieniem z Francji, które zawierało zdjęcia złomowiska, pełnego samochodów wykorzystywanych we wspomnianej usłudze. Tytułowa mozaika zdjęć pokazuje zezłomowane samochody, francuskiej marki Bollore, model BlueCar, które zostały wyprodukowane właśnie z myślą o usłudze AutoLib, która oprócz Francji, działała także m.in w Stanach Zjednoczonych czy w Singapurze. Zdjęcie obok pokazuje samochody właśnie ze wspomnianego, francuskiego złomowiska ale również obrazuje to jak skończyła usługa AutoLib, a raczej jedna z jej amerykańskich odmian – BlueIndy z Indianapolis. Coś wyraźnie poszło nie tak.
Budowanie usługi na specjalnie zaprojektowanym i wyprodukowanym na jej potrzeby samochodem brzmi ciekawie i może być powodem przewagi rynkowej, ponieważ takie auto może być już w fabryce przygotowane do wyzwań związanych z obsługą usługi współdzielonej mobilności. Jak jednak wskazują zdjęcia samochodów, które spotkał ten sam los, niezależnie od kontynentu, pozwala zaryzykować twierdzenie, że to nie kwestia mentalności czy indywidualnych lokalnych wymagań. O ile w przypadku samochodów z usługi amerykańskiej, nikt raczej nie łudził się, że z samochodów ze zdjęć można zrobić inny użytek, tak w przypadku BlueCarów z usługi paryskiej, organizowane były specjalne akcje sprzedażowe, które co ciekawe cieszyły się sporym zainteresowaniem, tym bardziej, że oferowana cena sprzedaży była całkiem atrakcyjna, nawet jak na polskie, a co dopiero na francuskie warunki – 4 990 Euro. Część samochodów z liczącej 4 000 samochodów floty znalazła nabywców pomimo trudności z uzyskaniem części zamiennych jak i z powodu nietypowych rozwiązań technicznych, nie stosowanych we współczenych elektrykach, jak choćby rekomendowane utrzymywanie stałego podłączenia samochodu do ładowarki, ponieważ bez tego, poziom naładowania baterii spadał. Pomimo części sprzedanej floty, duża jej część nie znalazła nabywców, tworząc niepokojące cmentarzysko samochodów elektrycznych. W Polsce ledwo osiągnęliśmy 1% samochodów elektrycznych z zapowiadanego miliona, a gdzieś we Francji wrasta kilkaset egzemplarzy aut zero-emisyjnych. Oczywiście nie sugerujemy "przejęcia" tych pojazdów i próby ich sprzedaży w Polsce, natomiast sama przytoczona sytuacja brzmi dość groteskowo.
Ostatecznie biorąc pod uwagę setki, ledwo kilkuletnich samochodów elektrycznych, które czeka wyłącznie demontaż, trudno uznawać posługując się tylko tym przypadkiem elektromobilność za ekologiczną. Naszym jednak zdaniem w tym konkretnym przypadku, totalną klapą okazał się pomysł budowania specjalnego samochodu na potrzeby usługi carsharingu, dla którego nie było przewidzianego drugiego życia na rynku wtórnym. Utrata wartości tych samochodów okazała się kosmiczna, a dla porównania, patrząc na usługi carsharingu elektrycznego, które nie poradziły sobie w Polsce, czyli Vozilla oraz InnogyGO!, to trudno przypuszczać, a nawet wyobrazić sobie, że Nissany Leafy  i Renault Zoe po tych pierwszych, czy BMW i3 po drugich, po zakończeniu działalności carsharingowej trafiły na złom. Modele samochodów elektrycznych, które odniosły komercyjny sukces, a za takie zdecydowanie należy całą powyżej wymienioną "trójkę" są całkiem łakomym kąskiem na europejskim rynku wtórnym i uzyskują całkiem atrakcyjne ceny, dlatego myśląc o sukcesie w carsharingu złożonym w całości czy nawet w części z samochodów elektrycznych, należy stawiać na sprawdzone modele, a nie kombinować z pojazdami, dla których nie ma na wypadek niepowodzenia usługi żadnej alternatywy. Tyczy się to również mikrosamochodów, które gdzieniegdzie również próbują, z raczej gorszym skutkiem, sił we współdzielonej mobilności samochodowej.