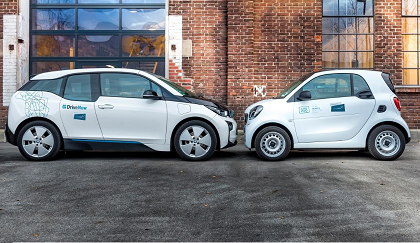 ShareNow do niedawna był w branży carsharingu prawdziwym benchmarkiem. Dla wielu usługodawców, również w Polsce, niemieckie konsorcjum dwóch motoryzacyjnych gigantów było niedoścignionym wzrorem. Niestety ostatnie miesiące dla ShareNow to zdecydowanie gorszy okres.
Zaczęło się od całkowitej rezygnacji ze świadczenia usług w krajach Ameryki Północnej. Następnym ciosem była utrata tytułu największego carsharingu w Europie, na rzecz rosyjskiego Yandex Drive. W ostatnich tygodniach ShareNow wyprzedzony został również przez kolejną rosyjską usługę – Delimobil. W październiku z kolei podawaliśmy informację o dołączeniu do usługi Fiatów 500, co wskazuje, że w największym niemieckim carsharingu nie dzieje się najlepiej  i firma wyraźnie tnie koszty. Wprowadzenie samochodów włoskiej marki do ShareNow, wyraźnie wskazuje, że wizerunek nie jest najważniejszy. Potwierdza to również najnowsza informacja od tego operatora, wg której ShareNow wycofjuje ze swojej floty samochody elektryczne na swoim głównym – niemieckim rynku. Na zero-emisyjnych samochodach nie da się zarobić a pozytywny, ekologiczny wizerunek nie wystarczy, aby utrzymać elektryczną flotę choćby w minimalnej ilości.
Powód tak radykalnej decyzji jest oczywisty. Zbyt uboga sieć ładowania samochodów elektrycznych. Truizmem jest, że wspomniana, niemiecka sieć jest bez porównania większa od infrastruktury w Polsce, dlatego nie powinna też dziwić rezygnacja niemal wszystkich w pełni elektrycznych usług, które dotąd działały w Polsce. GreenGoo, eCar od Taurona i przede wszystkim Vozilla są już historią, a największy "zielony" carsharing w Polsce – InnogyGO! poszukuje kupca. Owszem, działa jeszcze usługa PKP Mobility, jednak ten carsharing działa na zasadzie stacjonarnej a do tego dostępny jest jedynie lokalnie na Pomorzu dopiero od 2 miesięcy.
Na potwierdzenie faktu, że decyzja ShareNow nie jest odosobniona na niemieckim rynku, dodamy, że część elektrycznych samochodów wycofał również ze swojej usługi, Flinkster, będący własnością tamtejszy kolei państwowych –  DB. Z kolei inny uslugodawca – MultiCity, oferujący wyłącznie "elektryki" całkowicie zakończył swoją działalność. W tej chwili jedynym w pełni elektrycznym, niemieckim carsharingiem jest WeShare, będący własnością koncernu Volkswagena. Ciężko jednak zakładać, że Grupa VAG po niedawnej aferze "DieselGate" zrezygnuje z "zielonego" projektu, współdzielonych zero-emisyjnych aut, nawet jeśli w dłuższej perspektywie, nie będą one przynosiły zysku.
W sytuacji gdy nawet usługi za którymi stoją motoryzacyjni giganci, świadomie rezygują z oferowania samochodów elektrycznych, warto zastanowić się nad sensem bezrefeksyjnego promowania bezemisyjności w carsharingu, również w Polsce, gdzie zasoby konsumentów są bez porównania niższe.  Auta elektryczne to przyszłość, natomiast tylko w przypadku zrównoważonego rozwoju, krok po kroku.