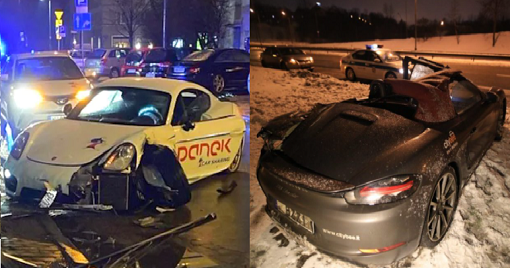 Gdy wczoraj rano publikowaliśmy na naszej stronie materiał o wprowadzeniu przez Panek CarSharing, trzeciego z serii modeli "ektremalnych" klasyków, czyli Porsche Cayman, nawet przez myśl nam nie przeszło, że w domyśle świeży artykuł będzie już nieaktualny. Najmniejszy z produkowanych obecnie Porsche, nie wytrwał w usłudze nawet doby, a podczas kolizji prowadzony był przez kierowcę w stanie po spożyciu alkoholu.
Pewną ironią losu jest fakt, że niecały miesiąc temu przygotowaliśmy specjalny materiał w którym opisaliśmy przypadki kolizji i wypadków z udziałem modeli specjalnych użytkowanych w carsharingu, gdzie prezentowaliśmy nasz wniosek z którego wynika, że te droższe i szybsze auta na minuty nie są statystycznie częściej rozbijane niż modele standardowe. Wypadek "pankowego" Caymana wcale nie zmienia naszego wniosku, natomiast wskazuje dobitnie na inny problem, który nie jest wyłącznie problemem usług współdzielenia pojazdów, a faktycznie dotyka całości ruchu drogowego w Polsce. Jest nim alkohol i skrajna nieodpowiedzialność.
W naszym listopadowym artykule przytoczyliśmy przypadek z Litwy, z dobrze znanej również polskim obserwatorom rynku współdzielenia, usługi CityBee. W litewskim carsharingu udostępniono Porsche Boxtera (bliźniaczy model do Caymana – różnica to materiałowy, składany dach Boxtera i stały, zamknięty w Caymanie) który został rozbity przez nietrzeźwego kierowcę. Na Litwie, podobnie jak i w polskim, wczorajszym przypadku kierowca kierował samochodem po alkoholu, a to nie koniec podobieństw. W obu przypadkach doszło do zderzeń z barierkami a litewski Boxter dodatkowo w późniejszym etapie zdarzenia uderzył w naczepę ciężarówki. W przypadku zdarzenia z Warszawy, szczegóły kolizji są jeszcze wyjaśniane, natomiast zanim Porsche zakończyło jazdę na barierkach, zostało uderzone przez inny samochód.
Jak wskazują powyższe przykłady, wbrew opiniom jakie pojawiają się w reakcji na wczorajsze zdarzenie, problemem nie jest zbyt wysoka szybkość czy moc, bądź brak umiejętności potrzebnych do prowadzenia szybszych samochodów. Na dowód powyższego posłużymy się losem innych, mocniejszych samochodów udostępnionych jak dotąd w usługach polskiego carsharingu. Zarówno elektryczny Jaguar I-Pace (Panek & InnogyGO), BMW i8 czy Bentley Continental (Panek), czyli samochody, których moc przekracza 360 KM (czyli ponad 100 koni więcej niż Cayman), nie zostały jak dotychczas rozbite. Interesującą ciekawostką, potwierdzającą tylko nasz pogląd jest fakt, że los Caymana podzielił jak dotąd, tylko ociężały Jeep Wrangler również z floty Panka, który nie jest demonem prędkości a również został uszkodzony i tutaj bez zaskoczenia, przez nietrzeźwego kierowcę.
Jazda samochodem po alkoholu to patologia i nie odnajdujemy tutaj żadnych okoliczności łagodzących zarówno dla jazdy na "podwójnym gazie" samochodami współdzielonymi jak i prywatnymi. Nie można jednak przejść obojętnie obok tego, że każdy taki przypadek kładzie się cieniem na usługach carsharingu, utwierdzając stereotyp, że w Polsce nie można zaoferować niczego mocniejszego ani ciekawszego. Można, pod warunkiem zrozumienia jednej prostej zasady – PIŁEŚ, NIE JEDŹ !! (ani współdzielonym ani żadnym innym).