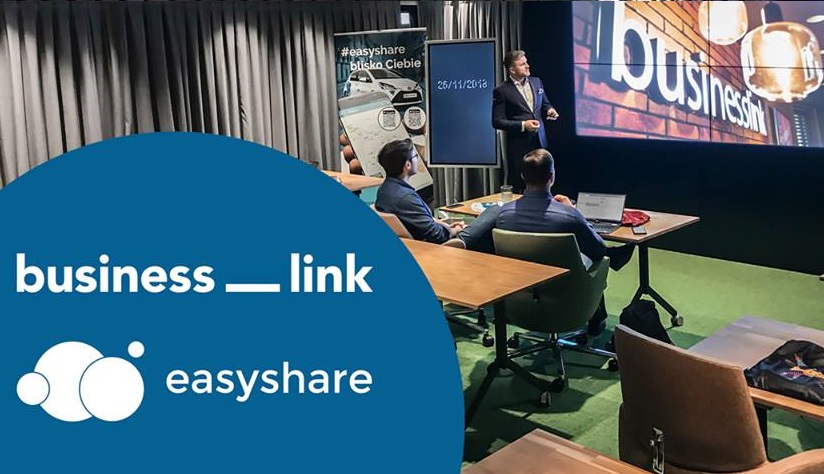 Ciekawe informacje przyszły w tym tygodniu z Poznania, gdzie tamtejszy operator EasyShare (oprócz Poznania, świadczy on usługę również w Łodzi). Operator wykorzystujący hybrydowe Yarisy przedstawił podczas konferencji prasowej nowe funkcjonalności które już 7-ego grudnia zostaną udostępnione w usłudze.
Konferencja odbyła się w poznańskim centrum biznesowym Business Link i nie jest to lokalizacja przypadkowa. Właśnie z tym centrum związane są najnowsze planowane zmiany w aplikacji EasyShare. Po zainstalowaniu aktualizacji, klienci tego operatora, będą mieli możliwość zarezerwowania sal co-workingowych i konferencyjnych bezpośrednio w aplikacji do aut na minuty. Jest to pierwszy carsharing który zaproponował tego typu rozwiązanie. A to nie koniec bezprecedensowych innowacji, bowiem oprócz sal konferencyjnych, w aplikacji EasyShare klienci będą mogli zarezerwować również apartamenty, a także samochody na doby. Ostatnie zdanie może dziwić, bowiem EasyShare od początku świadczenia usługi, oferował wynajmy swoich samochodów ze stawką dobową. Jednak do tej pory były to wyłącznie Toyoty Yaris, a po aktualizacji, będzie możliwa rezerwacja również modeli Auris, oraz Avensis. Nie jest to jednak związane z rozszerzeniem palety modeli w usłudze carsharingu. EasyShare rozszerzył swoją współpracę z wielkopolskim dealerem tej japońskiej marki – Toyota Poznań Centrum. Dzięki nowej aktualizacji, klienci będą mogli rezerwować wymienione modele z floty tego dealera. Samochody będą wynajmowane na okresy pełnych dób, bez naliczania opłaty za kilometry, która to opłata będzie zamieniona na konieczność zatankowania wynajętego samochodu do pełna przed jego oddaniem. Nie będzie się to zatem różnić od tradycyjnej usługi wynajmu samochodów. Wprowadzenie takiej aktualizacji do aplikacji aut na minuty jest kwestią interesującą, tym bardziej, że pośród polskich operatorów carsharingu w Polsce, mamy aż trzy firmy których główna działalność opiera się właśnie na tradycyjnym wynajmie samochodów – Click2Go, Panek oraz Traficar (za moment wystartuje czwarta usługa zarządzana przez firmę z branży "Rent a Car" – GreenGo & wypożyczalnia Transporters), a to właśnie firma nie związana bezpośrednio z tradycyjnym wynajmem wprowadziła taką funkcjonalność.
W związku z powyższym, można zaryzykować twierdzenie, że aplikacja EasyShare, staje się powoli czymś na kształt agregatora usług, w którym carsharing jest co prawda główną oferowaną usługą, ale nie jedyną. Czy w tym kierunku będzie podążać przyszłość takich usług? Wszystko wskazuje na to, że tak.