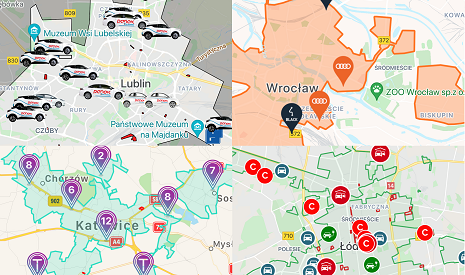 Nie tylko najwierniejsi klienci carsharingu, ale również osoby, które korzystają ze współdzielonej mobilności sporadycznie zauważyły, że w ostatnim czasie zauważalna jest zmniejszona ilość samochodów w usługach polskiego carsharingu. Czy można zatem mówić w tej sytuacji o kryzysie carsharingu i być może jego zmierzchu?
Zanim postaramy się odpowiedzieć na postawione powyżej pytanie, zwrócimy uwagę na to, że Polska nie jest tutaj odosobnionym przypadkiem i na podobny niedobór samochodów współdzielonych zwracają uwagę choćby Rosjanie. Jak wynika z relacji ekspertów rynku motoryzacyjnego z Rosji, głównym problemem związanym z rozbudową floty jest niedobór samochodów dostępnych do leasingu:
"Teraz deficyt ma charakter globalny, spowodowany jest brakiem podzespołów elektronicznych do samochodów. Dealerom bardziej opłaca się sprzedawać samochody osobom prywatnym na kredyt niż firmom leasingowym czy dużym flotowym odbiorcom, którzy wymagają wysokich rabatów"– wyjaśnia dyrektor wykonawczy Avtostat Siergiej Udałow.
W czasie pandemii produkcja samochodów osobowych spadła do niepamiętnych poziomów. W drugim kwartale 2021 kolejni producenci zatrzymują taśmy produkcyjne czego efektem będzie najniższa od dekady sprzedaż na koniec bieżącego roku. Głównym winowajcą przestojów jest kryzys na rynku półprzewodników, bez których zbudowanie nowoczesnego samochodu jest po prostu niemożliwe. Jak szacują eksperci rynku motoryzacyjnego, w samym 2021 roku z powodu samego niedoboru tranzystorów, nie zostanie wyprodukowanych aż 3,9 miliona nowych samochodów.
Czy podobnych argumentów można użyć do wyjaśnienia mniejszej ilości samochodów w polskim carsharingu? Na pewno jest to jeden z wiodących powodów, bowiem większość polskich operatorów jest albo świeżo po, albo w trakcie okresowej wymiany floty. Okres żywotności samochodów współdzielonych to od 12 do 24 miesięcy i flota każdego z wiodących usługodawców przynajmniej w części kwalifikuje się obecnie do wymiany. Najstarsi polscy operatorzy czyli 4Mobility i Traficar w ostatnim czasie wycofali ze swoich zasobów najstarsze samochody, czyli odpowiednio: Hyundaie i30 (4Mobility) i Renaulty Clio IV i samochody z grupy kompaktowej (Traficar). "Czwórki" dodały do floty kilka egzemplarzy Audi, jednak nie tak wiele jak Hyundai, których komplet został usunięty. Traficar z kolei regularnie dodaje nowe Clio, piątej generacji oraz elektryczne Springi. Obecnej flocie "fioletowego carsharingu" brakuje jednak trochę pod względem liczb do poziomu docelowego (np. 250 sztuk elektrycznej Dacii). Podobna sytuacja dotyczy również Panek CarSharing, który zapowiada od pewnego czasu dodanie kolejnych samochodów nie tylko w grupie klasyków, ale też wśród najliczniejszych grup podstawowych. Zmniejszoną liczbę aut można również zaobserwować w EasyShare.
Opóźnione zamówienia to jednak nie jedyny powód zmniejszonej ilości samochodów dostępnych do wynajmu. Jest jeszcze drugi powód takiego stanu rzeczy, który mocno wiąże się, z powolnym, acz regularnym luzowaniem obostrzeń  sanitarnych. Cieplejsza pogoda, swoboda przemieszczania się po kraju oraz, co nie bez znaczenia wciąż odczuwalne utrudnienia w przemieszczaniu się po Europie czy świecie, zebrane razem powodują zwiększony popyt na wynajmy samochodów w naszym kraju. Warto w tym miejscu zauważyć, że polski carsharing w ostatnim czasie skutecznie przemodelował swoją ofertę, dzięki której "auta na minuty" przeobraziły się w bardzo interesującą alternatywę dla tradycyjnych wypożyczalni. Pakiety średnio- i długo-terminowe, sięgające nawet miesiąca spotkały się z dużym zainteresowaniem klientów w efekcie czego, szczególnie w weekendy ilość dostępnych samochodów na mapie aplikacji polskich carsharingów, jest znacznie niższa. W temacie wypożyczalni, typu "rent a car" warto również nadmienić, że tradycyjne wypożyczalnie również dotknięte są kryzysem związanym z dostawami, dlatego też zgodnie z prawem podaży i popytu, podnoszą ceny. Samochodów na wynajem jest mniej oraz są droższe, dlatego klienci poszukują alternatyw, które coraz częściej odnajdują w carsharingu, który jest znacznie bardziej elastyczną usługą niż stacjonarna wypożyczalnia.
Reasumując, kryzys na rynku samochodów nowych, złagodzenie obostrzeń oraz większe zainteresowanie wynajmem samochodów a także niedobór aut w tradycyjnych wypożyczalniach, to komplet powodów które finalnie wpływają na zauważalnie mniejszą dostępność "aut na minuty" w aplikacjach wiodących polskich operatorów. Jak długo taki stan będzie trwał, ciężko jednoznacznie określić, natomiast ostatnim powodem takiego stanu rzecz jest zmniejszenie zainteresowania usługami carsharingu w naszym kraju.