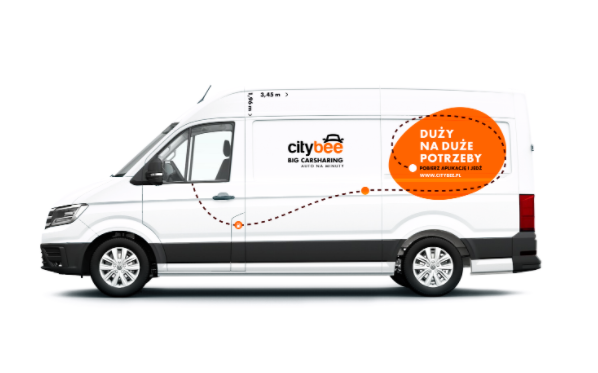 Baczni obserwatorzy polskiego carsharingu zauważyli na pewno zmniejszoną ilość samochodów, wciąż jeszcze największego w Polsce usługodawcy oferującego współdzielone samochody dostawcze, czyli CityBee. W szczytowym momencie ten litewski operator, oferował w Polsce około 150 samochodów wśród których przeważały duże samochody dostawcze (Fiat Ducato, Citroen Jumper oraz VW Crafter) ale oprócz nich udostępnione były również 9-osobowe samochody typu VAN, konkretnie Toyoty Pro-Ace. Usługa działała w Polsce w 11 lokalizacjach rozsianych po całej Polsce.
Co więcej, usługa oparta na dużych "dostawczakach" i samochodach typu VAN, miała być tylko przetarciem przed wpuszczeniem do Polski usługi opartej na samochodach osobowych, czemu miała pomóc znaczna inwestycja właściciela CityBee – czyli litewskiej grupy kapitałowej Modus. Szerzej o tych planach pisaliśmy w tym miejscu.
Pomimo ambitnych planów, ogłoszonych już prawie 2 lata temu, dotąd nie udało się ich wprowadzić w życie, a co więcej rola CityBee w polskim carsharingu sukcesywnie maleje. Zaczęło się od zamknięcia jednego z oddziałów – Szczecina, z którego po bardzo krótkim czasie zabrano wszystkie samochody dostawcze. Od tamtego czasu minął już ponad rok i póki co pozostałe 10 lokalizacji nadal działa, chociaż w wielu z nich nie znajdziemy ani jednego samochodu. W praktyce bez większych zmian działa w tej chwili jedynie oddział warszawski, w którym znajdziemy samochody cargo w ilości około 30 sztuk. W pozostałych aktywnych oddziałach liczba dostępnych pojazdów waha się między 0 a 3. Od wielu miesięcy nie ma już śladu po 9-osobowych VANach, których część można spotkać w oddziałach litewskich, a także flota dostępnych samochodów dostawczych zmalała o ponad połowę. Co więcej oprócz floty, również kadra pracująca w polskim oddziale operatora znacznie się uszczupliła.
Na naszych łamach wielokrotnie pisaliśmy o działaniach CityBee w pozostałych krajach, w których Litwini postanowili zainwestować. Chodzi konkretnie o Łotwę i Estonię, gdzie podobnie jak w Polsce CityBee zaczęło od "BigCarsharingu" opartego na samochodach dostawczych. W odróżnieniu od polskiego oddziału firmy, w łotewskim i estońskim szybko do samochodów dostawczych dołączyły auta osobowe. Rozwój sieci w pozostałych krajach bałtyckich zaczął się od Fiata 500, od którego CityBee zaczynało również na Litwie, aby dzisiaj oferować Łotyszom i Estończykom również inne modele osobówek jak Nissan Qashqai, Mini cabrio czy… klasycznego WAZ Żiguli lub VW Golfa II, którego nasz test z Litwy możecie obejrzeć tutaj, a który obecnie jeździ po ulicach estońskiego Tallinna.
Dlaczego zatem CityBee rozwija się harmonijnie zarówno w swojej rodzimej Litwie, a także na Łotwie i w Estonii, a w Polsce znacznie obniża loty? Powody odnajdujemy głównie w dwóch miejscach, na które poniżej zwracamy Waszą uwagę:
– CityBee wchodząc na polski rynek z dużymi samochodami dostawczymi, miało zdecydowanie dobry pomysł, ponieważ w zasadzie nie mieli w tym zakresie konkurencji. Owszem, był dostępny już TrafiCargo, natomiast oferował w tamtym momencie wyłącznie niewielkie samochody dostawcze typu Renault Kangoo. Oferta CityBee była o wiele bardziej elastyczna – znacznie większe samochody oraz możliwość migrowania ich pomiędzy strefami miejskimi (np. wynajem we Wrocławiu, zwrot w Bydgoszczy). Był to pierwszy carsharing w Polsce, który wprowadził zasadę swobodnej migracji w swojej usłudze. Niestety jeśli chodzi o samochody osobowe, konkurencja w Polsce była nieporównywalna. W tej chwili CityBee chcąc wprowadzić samochody osobowe do swoich oddziałów, musiałoby walczyć z 5 operatorami posiadającymi flotę minimum 200 samochodów, z czego 2 z nich oferuje floty liczone w tysiącach. Zdecydowanie łatwiej było litewskiemu operatorowi "zaatakować" sąsiednią Łotwę i Estonię, gdzie konkurencja była nieznaczna (w Estonii – 1 operator oferujący 20 samochodów, na Łotwie – 1 operator z flotą ok. 100 aut). Ekspansję w krajach bałtyckich widać zresztą gołym okiem, ponieważ po roku działalności w obu krajach, CityBee rozszerzyło działalność na kolejne miasta (Łotwa – Lipawa, Estonia – Parnawa) a także znacznie wzrosła ilość samochodów dostępnych w obu krajach (po ok. 300 aut).
– Drugi klucz, leży naszym zdaniem w cennikach usług jakie oferowane są w Polsce. CityBee najzwyczajniej w świecie uznało, że konkurowanie z ofertą polskich operatorów nie ma większego sensu, ponieważ w naszym kraju nadal trwa cenowa walka o prymat, a oferta polskich usługodawców nie pozwala na uzyskanie zysku z oferowanych usług (vide ostatnie podwyżki cenników u 4 polskich operatorów). CityBee deklaruje, że w rodzimej Litwie, carsharing jest rentowny, natomiast warto w tym miejscu zauważyć, że grupa Modus uruchomiła swoją usługę już w 2012 roku, ma tylko jednego konkurenta – usługę Spark, a standardowy cennik znacznie odbiega od tego oferowanego w Polsce. Co więcej cennik konkurencyjnego Sparka, również nie jest niższy niż ceny CityBee.
Dla poparcia powyższej tezy, przedstawiamy poniżej cennik dla modeli, dla których można znaleźć odniesienie w polskich usługach: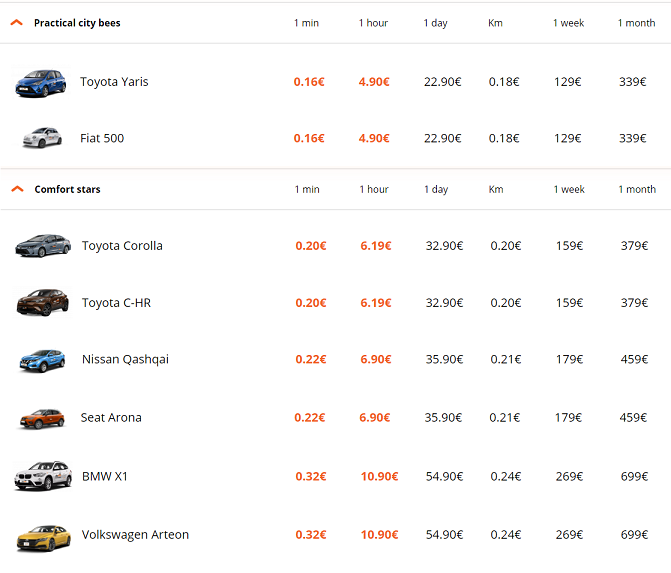 Jak wynika z powyższych cen, gdyby przeliczyć je dokładnie na złotówki, to powyższa oferta, byłaby najdroższą na polskim rynku. Pewnym udogodnieniem dla klientów jest z pewnością opłata za godzinę, która niweluje w znacznym stopniu wysoką stawkę za minutę, natomiast z drugiej strony nie występuje w CityBee opłata za postój, gdzie klient niezależnie czy jedzie, czy trzyma auto na parkingu w trybie "stop-over" podczas zakupów, płaci taką samą opłatę za minutę używania auta. Co warte zauważenia, poziom życia Litwinów jak i zasobność ich portfela oraz siła nabywcza jest dość zbliżona do tej Polaków.
Reasumując, CityBee zdecydowanie skupiło się na umacnianiu swojej pozycji (wg oficjalnych doniesień operatora w samej Litwie CityBee ma zarejestrowanych ponad 300 tysięcy klientów, co daje około 10% ludności tego kraju) a także mocnej ekspansji na rynkach mniej wymagających niż Polska. Oczywiście nie znaczy to, że litewski operator zniknie całkowicie z naszego kraju, natomiast zatrzymanie inwestycji Litwinów na polskim rynku świadczy, że póki co nasz rynek carsharingu pozostanie jednorodny ponieważ nikt z zagranicy chcący osiągnąć szybki zysk w Polsce tutaj nie zainwestuje, czego dowodem jest fakt, że zarówno w sąsiednich Czechach czy na Węgrzech, działają z powodzeniem usługi zagranicznych inwestorów (w Pradze – rosyjsko-włoski AnyTime i węgierski GreenGo, w Budapeszcie – niemiecki ShareNow).