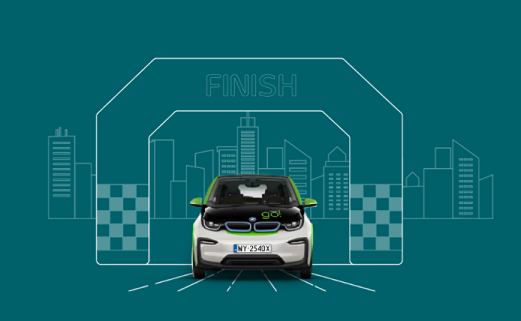 Dzisiaj dotarła do nas przykra wiadomość, której jednak środowisko polskiego carsharingu spodziewało się od przynajmniej kilku miesięcy. Nasz portal jako jeden z pierwszych, już w październiku 2020 informował, że największy i w sumie ostatni polski, w pełni elektryczny carsharing – InnogyGO! wystawiony został na sprzedaż. Ostatecznie dzisiaj przed południem InnogyGO! ogłosiło, że do połowy marca b.r. z warszawskich ulic znikną wszystkie współdzielone BMW i3 tego usługodawcy.
Ostatni w pełni zero-emisyjny carsharing wytrzymał na rynku niespełna 2 lata (wystartował 2 kwietnia 2019 roku) a w szczytowym momencie udostępniał ponad 400 elektrycznych BMW i3, co było jednocześnie największą na świecie flotą współdzieloną złożoną z samochodów tego bawarskiego producenta. Niespełna dwuletnia działalność obfitowała w ciekawe inicjatywy, jak choćby uruchomienie strefy w Zakopanem, wprowadzenie na rynek pierwszych (i jedynych jak do tej pory) w pełni elektrycznych, współdzielonych samochodów dostawczych marki  MAN, czy udostępnienie klientom bardzo mocnych i wygodnych Jaguarów I-Pace.
O kwietnia 2019 roku, samochody InnogyGO! przejechały łączny dystans 7 milionów kilometrów co pozwoliło na oszczędność ponad 1000 ton dwutlenku węgla. Usługa cieszyła się dużym zainteresowaniem klientów, bo nie dość, że dzięki inicjatywie spółki Innogy mieszkańcy Warszawy mogli na własnej skórze przekonać się czym jest elektromobilność, to jeszcze dostali do dyspozycji samochody marki, uznawanej powszechnie za markę segmentu Premium.
Pomimo wyżej wymienionych pozytywów, decyzja o zakończeniu działalności przez największego polskiego usługodawcę elektrycznego carsharingu potwierdza smutną prawdę, że na elektryczny carsharing jest jeszcze w Polsce nadal zbyt wcześnie. InnogyGO! w oficjalnym komunikacie, wśród powodów zakończenia swojej działalności podaje COVID-19, który z pewnością odbił się na warszawskim operatorze, podobnie jak i odbija się na całej branży, również spalinowego carsharingu. Skupienie jednak całej winy na pandemii korona-wirusa byłoby zbyt dużym uproszczeniem. Pomimo szeregu udogodnień jakie w Polsce spotykają samochody elektryczne, jak choćby bezpłatne parkowanie w miejskiej strefie parkingowej, czy możliwość poruszania się po bus-pasach, elektryczny carsharing w naszym kraju nie wychodzi. Los InnogyGO! nie jest odosobniony i jest tylko potwierdzeniem, że na w pełni elektryczny i rentowny carsharing w Polsce jest nadal za wcześnie. W marcu, gdy ostatnie współdzielone BMW i3 wyjadą ze stołecznych ulic, zniknie ostatni w pełni elektryczny carsharing i podzieli los wcześniejszych zero-emisyjnych inicjatyw jak: wrocławska Vozilla, siedleckie PGE Mobility czy śląskie: eCar od Taurona i GreenGoo. Rozwój carsharingu w naszym kraju pokazał, że Polacy chcą współdzielić nie tylko w mieście na minuty, ale również na dłużej i w całej Polsce, lecz niestety ze względu na wciąż małe zasięgi i ubogą sieć ładowania samochodów elektrycznych, która poza największymi metropoliami jest bardzo rozrzedzona, samochód elektryczny nie jest i jeszcze długo nie będzie alternatywą dla prywatnego samochodu Polaka, który poza dojazdem do pracy bardzo często używa go do podróży za miasto i na dłużej. Nie bez znaczenia jest również wysoka cena samochodów elektrycznych i wciąż raczkujący rynek używanych "elektryków", który ma wpływ na atrakcyjność instrumentów finansowych dla takich aut, ale również na poziom ich utraty wartości, która ma bardzo duże znaczenie przy zarządzaniu tego typu flotą.
Co jeszcze warte odnotowania, Innogy nie zniknie z polskiego rynku carsharingu całkowicie, ponieważ  jak donosi sam operator, spadkobiercą największego polskiego elektrycznego carsharingu zostanie jeden z największych polskich usługodawców – Traficar, który wg deklaracji Innogy, we współpracy z niemieckim koncernem energetycznym rozwijać będzie elektromobilność w Warszawie. Do końca roku na ulice stolicy ma wyjechać 200 zero-emisyjnych samochodów w barwach Traficara, które będą ładowane na stacjach pozostałych po InnogyGO!
Reasumując, dzisiejsza wiadomość, to zdecydowanie najważniejsze doniesienie branży w tym kwartale. Pokazuje ona jednak smutną prawdę, że pomimo usilnych działań promocyjnych, klucz do elektrycznego carsharingu wiedzie przez zrównoważenie, czego dowodem jest choćby właśnie fakt współpracy z Traficarem, który będzie rozwijał swoją sieć samochodów elektrycznych wraz z aktualną flotą spalinową. Bo współdzielona elektromobilność to przyszłość, również w Polsce. Ale dojść do niej można tylko sukcesywnie, krok po kroku, bo jak pokazuje historia, ambitne inicjatywy oparte w pełni na "zielonych" samochodach w naszym kraju nie mają póki co szans na rentowność.