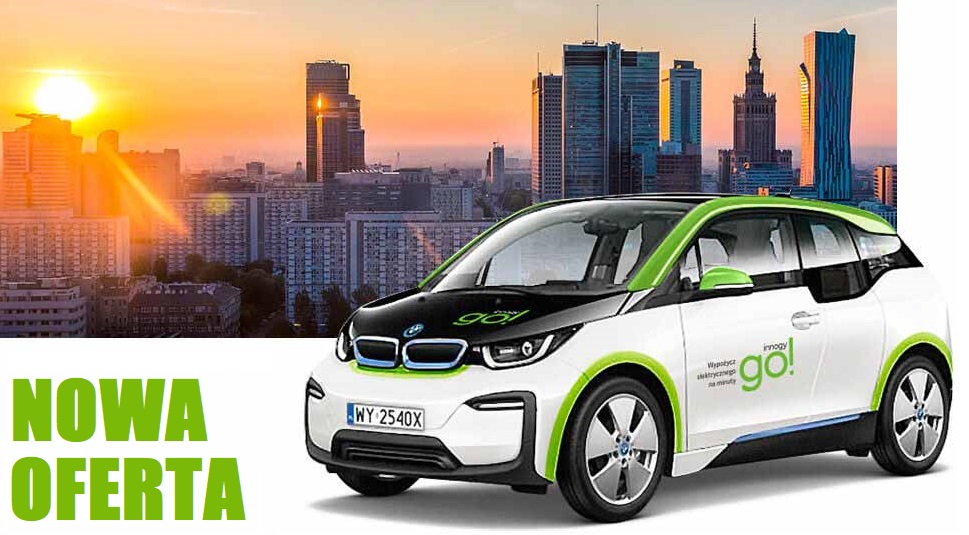 O planach największego w pełni elektrycznego polskiego carsharingu – InnogyGO! informowaliśmy już w lutym, przy okazji "rewelacji" związanych z wprowadzeniem do usługi Jaguara I-Pace'a. Wtedy jednak brakowało szczegółów zapowiadanej oferty. Wszelkie informacje na temat nowych oferowanych produktów już się pojawiły, a detale publikujemy poniżej:
Użytkownicy elektrycznych InnogyGO!, do tej pory wypożyczając samochód za pomocą aplikacji rozliczali się za minuty, bądź w opcjach dobowych. Teraz do dyspozycji będą mieli dodatkowe opcje rozliczeń. Operator wprowadza do aplikacji aż trzy dodatkowe metody płatności: subskrypcje, vouchery oraz pakiety minutowe. Jak deklaruje usługodawca za przejazdy BMW i3 możemy zapłacić nawet do 67% mniej, a część ofert można łączyć, co w rezultacie może dodatkowo obniżyć rachunek za przejazd.
–
Osoby, które są w stanie przewidzieć na jak długo będą potrzebować samochodu innogy go! mogą korzystać z pakietów minutowych. W chwili rezerwacji pojazdu, użytkownik z góry wybiera i płaci za pakiet czasowy. Do dyspozycji ma aż trzy opcje. BMW i3 może wynająć na 30 min za 29,99 zł (0,99 zł/min), 75 min za 59,99 zł (0,79 zł/min) oraz 300 min za 99,99 zł (0,33 zł/min). Rozliczenie następuje dopiero po zakończeniu najmu samochodu. Z tego względu, jeśli przekroczy się czas wybranego pakietu, za dodatkowo wykorzystane minuty trzeba zapłacić zgodnie ze stawką innogy go!, a więc 1,19 zł/min.
​
Subskrypcje to oferta stworzona dla osób, które chcą korzystać z carsharingu nie tylko okazjonalnie. Użytkownik, który zdecyduje się na ten model ma do wyboru trzy możliwości. Subskrypcja odnawia się automatycznie, ale można z niej zrezygnować w każdym momencie i kwota nie będzie naliczana od nowego okresu rozliczeniowego. W nowej ofercie znajdziemy:
1. subskrypcję na 30 dni w cenie 199 zł, w której codziennie mamy do wykorzystania 20 zł
2. subskrypcję na 28 dni w cenie 199 zł, w której w ciągu tygodnia mamy do wykorzystania 70 zł
3. subskrypcję na 7 dni w cenie 59 zł, w której codziennie mamy do wykorzystania 20 zł
W przypadku zakupu vouchera, użytkownik zasila swoje konto określoną sumą pieniędzy. Do wyboru ma cztery opcje:
1. voucher pre-paid o wartości 300 zł – za 285 zł
2. voucher pre-paid o wartości 500 zł – za 469 zł
3. voucher pre-paid o wartości 1000 zł – za 919 zł
4. voucher No limit 24 h – za 299 zł
Dla pierwszych trzech voucherów, termin ważności to 90 dni, a zaletą tej formy rozliczenia jest jedna, zbiorcza faktura. Tym samym, jest to idealne rozwiązanie dla osób prowadzących np. jednoosobową działalność gospodarczą. W opcji No limit 24 h użytkownik płaci 299 zł i otrzymuje pakiet o wartości 1715 zł!  W tej opcji, minuta jazdy kosztuje nas więc tylko 0,21 zł. Z vouchera można korzystać przez 24 godziny, ale w odróżnieniu od standardowej stawki dobowej, z tym voucherem użytkownik może wielokrotnie zmieniać samochody.
​
Najem zawsze rozliczany jest po zakończeniu usługi. Dlatego warto zwrócić uwagę na moment kończenia najmu. Jeśli wypożyczymy auto przed końcem ważności vouchera i zakończymy po upływie tego terminu, zapłacimy za najem w całości, a niewykorzystana wartość vouchera przepadnie. Analogicznie w przypadku subskrypcji, najem zakończony po godzinie 23.59 będzie rozliczony w całości z wartości subskrypcji z następnego dnia.
Subskrypcje, vouchery i pakiety minut to nie jedyne nowości wprowadzone przez innogy go! Jeśli w aplikacji wyrazimy cztery zgody:
na kontakt e-mail, kontakt telefoniczny, na oferty od partnerów trzecich oraz personalizację (profilowanie) ofert – otrzymamy bonus w wysokości 5 zł do
wykorzystania na codzienne jazdy przez 30 dni, czyli łącznie kwotę 150 zł. Kod promocyjny za zgody można wykorzystać w dowolnej formie rozliczenia (pakiety minut/minuty jazdy) do północy każdego dnia.
InnogyGO! to już drugi polski carsharing, który zdecydował się na rozszerzenie oferty m.in o usługi abonamentowe. Pierwszym usługodawcą, który wprowadził "koszyk korzyści" zawierający zorganizowane subskrypcje, pakiety i przedpłaty był największy polski operator – Panek CarSharing, o którego ofertę opisaliśmy szerzej w
tym miejscu.