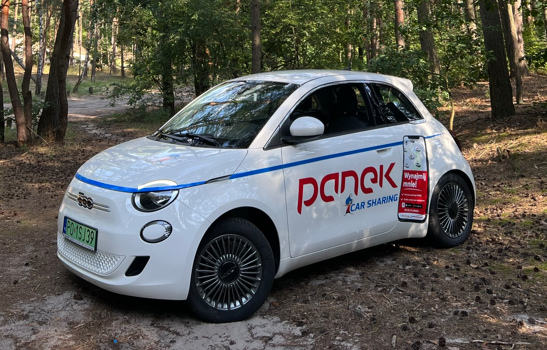 Nie dalej jak na początku sierpnia informowaliśmy o nowym nabytku Panek Carsharing, którym okazał się nowy samochód do grupy Extreme – Mercedes SL500, a jak się okazało to sierpień stoi pod znakiem "500" znacznie mocniej, a to dlatego, że flota największego pod względem ilości pojazdów i lokalizacji usługodawcy w Polsce wzbogaciła się o 20 egzemplarzy nowego Fiata 500.
Nowe Fiaty 500, które wjeżdżają do usługi to samochody zupełnie odmienne od tych, które jeździły dotychczas w grupie Economy. Nowa "500-tka" nieco urosła a co najważniejsze, model udostępniony w Panek CarSharing to pojazd w pełni elektryczny, dzięki czemu jest znacznie dynamiczniejszy od benzynowej odmiany, ale też pozbawiony jest elementu, na który narzekała część klientów, czyli pół-automatycznej skrzyni biegów, bowiem jako "elektryk" nie posiada on skrzyni biegów w ogóle, a wybór trybu jazdy do przodu, do tyłu lub parkingu ustawia się za pomocą przycisków.
Fiat 500e z usługi Panek może pochwalić się realnym zasięgiem niecałych 200 kilometrów, który oczywiście zależy od temperatury powietrza oraz dynamiki jazdy, która jest całkiem przyzwoita a odpowiada za nią silnik o mocy 116 KM.
Elektryczny Fiat 500 poszerzy flotę samochodów elektrycznych w usłudze Panek, która obecnie składa się z Nissanów Leafów oraz dwóch modeli Tesli – S oraz 3.
Samochody umieszone zostały w grupie cennikowej Comfort – pełen cennik tej grupy znajdziecie -> tutaj. Komplet elektrycznych Fiatów, udostępniono póki co w Warszawie z wyłączoną możliwością przejazdu typu "multi-city" w konsekwencji czego kończenie wynajmów tego modelu możliwe jest wyłącznie na terenie strefy warszawskiej.