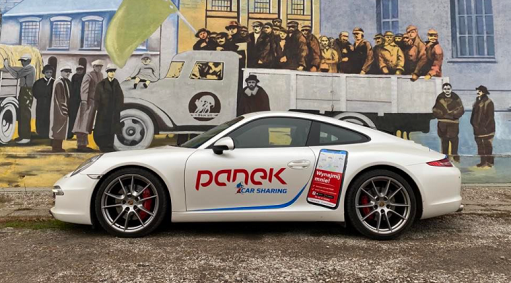 Nie dalej jak we wczorajszym artykule wspominaliśmy Porsche Caymana, z usługi Panek CarSharing, którego udostępnienie jak i rozbicie wydarzyło się równo rok temu. W materiale poza przedstawieniem innych usług carsharingu w Europie, w których udostępniono samochody marki Porsche zadaliśmy pytanie czy samochód tej marki powinien zostać wprowadzony do polskiego carsharingu ponownie.
Na bok jednak pytania i dywagacje, ponieważ dziś już wiadomo, że Porsche wróci do polskiego carsharingu i ponownie, podobnie jak Cayman, zostanie udostępniony w Panek CarSharing w grupie samochodów "Extreme". O ile jednak można było dyskutować o zasadności pozycjonowania najmniejszego współcześnie produkowanego modelu marki z Zuffenhausem w najbardziej ekstremalnej grupie aut specjalnych Panka, to w przypadku następnego Porsche nie można mieć wątpliwości.
Drugie Porsche w polskim carsharingu, to poprzednia wersja modelowa (991), najbardziej kultowego modelu w historii marki, czyli 911. Udostępniony egzemplarz to model 911 S, wyposażony w 400-konny silnik, który z pewnością jest w stanie wygenerować niezapomniane wrażenia.
Samochód będzie w pierwszej kolejności udostępniony w Warszawie, na terenie parkingu specjalnego pod Pałacem Kultury i Nauki. Cena Porsche będzie identyczna jak w przypadku innych samochodów grupy Extreme (cennik -> tutaj), natomiast możliwość jej wynajęcia będzie udostępniona wyłącznie dla klientów, którzy podobnie jak w przypadku wczześniej udostępnionych Ferrari oraz Tesli, wydali wcześniej w usłudze minimum 5 000 PLN.
Na uwagę zasługuje również sposób w jaki Panek CarSharing poinformowało o nowym samochodzie. Ponownie jak w przypadku niedawno udostępnionej Tesli, wykorzystano interpretację jednej ze scen z kultowego polskiego filmu – "Miś". Scenę promującą pierwszą w historii polskiego carsharingu 911-kę można obejrzeć poniżej: